Thrifting in December
I have been really enjoying my new local thrift shops. This week's treasure hunt yielded these gems.
A Fossil bag that looks unused but probably is.
I'm not familiar with them and didn't notice until I peeked inside that it was special. I caved and spend $10.00.
Digging a little further I found this gem for $6.99
It probably is a knock off, but it says it was made here :-)
Seventy five cents for this sweet little Cloisonne' Teapot. It is only 3 inches tall but it is a working pot, someone used it for spices. It's quite heavy for it's size.
The lid is separate and you can pour through the spout. I love the teacups and checkerboard trim.
A stunning embroidered pillow that caught my eye. I didn't know where I was going to use it, but had to have it. When I tossed it on the bed, I saw it matched the embroidered flowers.
A couple of felted gift bags for a quarter! I love the bucket, which I actually picked up on another trip, but the tall one with the jingle bell in the center of the snowflake called my name too. Homemade wrapped goodies could be tucked inside.
We are doing "thrifted only" stockings this year so I can't reveal the special finds I picked up for those right now, but will post them before New Year's.... I hope. I'm so excited with what I've found!

Women are so easy, but the men and teen guys can be tricky! Suggestions? ( I always love comments!)
I've joined the Monday party over at
Apron Thrift Girl
You can see more weekend finds over there.
Also here: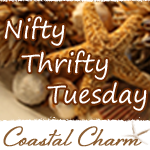 Your comments make my day!!

Welcome to my new followers!